Tube ovale- Oval tube
«Tube de survie» ovale, sculpturale, athermique, 20 x 10 x 5 m de hauteur intérieure, un concept Newood.
«Survival Tube», oval, sculptural, a-thermic, 20 x 10 x 5 m interior height, a Newood Concept.
Sphère épluchée – The peeled sphere
«La sphère épluchée», d'après la photo d'un ami en train d'éplucher une orange.
«The peeled sphere», after a picture of a friend peeling an orange.
Quadra
Modèle «Quadra», résidence haut de gamme, athermique, parasismique de 350 m2 habitables nets avec au centre un séjour de 64 m2 de portée libre sous 4 paraboles hyperboliques (éléments à doubles courbures) ainsi qu'une serre de 2 m2 faisant la transition entre l'habitat et le jardin.
Model «Quadra», upscale residence, athermal, eartquake resistant, 350 m2 plinth area with a living room of 64 m2 free span in the center under 4 hyperbolic parabolas (double curved elements) as well as a greenhouse of 20 m2 making the transition between the habitat and the garden.
Kibéra
Modèle «Kibera», rez-de-chaussée plus 1 étage, ultra social, unifamilial individuel, athermique, parasismique, de 40 m2 habitables nets pour 6 personnes (parents et 4 enfants) avec une implantation au sol de 25 m2. Prévu pour être implanté sur une parcelle de 100 m2 pour la construction, la circulation et un jardin potager de 50 m2. Équipé d'une toilette sèche et d'un composteur. Conçu pour l'autoconstruction industrielle (une usine produit les blocs nécessaires et la population construit pour elle-même.
Model «Kibera», 2 levels, ultrasocial, single family dwelling, athermic, earthquake resistant, 40 m2 plinth area, for 6 persons (parents and 4 childeren) with a footprint of the building of 25 m2. To be located on a plot of 100 m2 for the building, the circulation and a vegetable garden of 50 m2. Equipped with a dry toilet and a compost bin. Designed for industrial self-buillding (a plant produces the necessary blocks and the population build's for itself).
Timeuble
Modèle «Timeuble», courbé en avant, un oeil sur la cour pour acceuillir les habitants. Avec des jardins potager en terrasses. 4 niveaux, 8 studios étendus T1 de 50 m2 habitables chacun.
Model «Timeuble», curved forewords, an eye on the courtyard to welcome the inhabitants. With terraced vegetable gardens. 4 levels, 8 extended studios with a separate bedroom of 50 m2 each.
Senior housing
"Senior Housing". Deux modules d'habitation qui peuvent être posés dans la journée avec une grue depuis la route directement dans le jardin de l'habitat des enfants sans le tracas d'une société de construction qui construirait in situ.
Two modules which can be put together during the day with one crane directly from the road in the garden of the children's houses without the bother of a building company which would build in situ.
The Workshop
«The Workshop» (1/3), 2 niveaux, 900 m2 de surface utile, habiter/travailler, athermique, un concept Newood.
«The Workshop» (1-3), 2 levels, 900 m2 plinth area, work and live, a-thermic, a Newood concept.
Nees
Modèle «NEES», athermique, para sismique, R + 3, 4 x 70 m2 habitables = 280 m2 total habitable. Conçu pour être testé sur la NEHRI shake table (table secouante) à San Diego.
Model «NEES», a-thermic, earthquake resistant test model, 4 stories x 70 m2 plinth area per story = 280 m2 total plinth area, height = 13 meters, a Newood concept. Planned to be tested on the NEHRI shake table at San Diego.
Coursives-Passageways
«Les Coursives», habitat collectif athermique, R+3, 4 x 400 m2 = 1600 m2 habitables, hauteur = 14 m, avec un réseau pédestre de coursives à hauteur qui favorise les relations et le contrôle social, une conception Newood.
«The Passageways», a thermic collective housing, 4 stories, 4 x 400 m2 plinth area, height = 14 meters, with a pedestrian network of passageways in height improving social relations and control, a Newood concept.
Simplissimo
Modèle "Simplissimo", habitat social, T2, super-posable, de 77 m2 habitable.
Model "Simplissimo", social housing, 2 bedrooms, stackable, 77 m2 plinth area.
Casse tête – Tangram set
Modèle "Casse tête", 3 niveaux, 120 m2 habitables.
Model "Tangram set", 3 levels, 120 m2 plinth area.
Quadrature
Modèle "Quadrature", 4 studios de 30 m2, 2 niveaux, avec une espace commune de 40 m2 au rez-de-chaussée et 4 terrasses individuelles au premier étage.
Model "Quadrature", 4 studios of 30 m2, 2 levels, with a common space of 40 m2 on the ground floor and 4 individual terraces on the first floor.
L'enjambée – Step over
Modèle «l'Enjambée», habitat collectif athermique, R+11, 5 000 m2 habitables, hauteur = 39 mètres, un concept Newood.
Model «Step over», a thermic collective housing, 12 stories, 5 000 m2 plinth area, height = 39 meters, a Newood concept.
Multi-Ateliers
Les Multi-Ateliers, avec 50 m2 habitables au rez-de-chaussée et 25 m2 de mezzanine/bureau.
The Multi-Ateliers, with 50 m2 first level and 25 m2 mezzanine/office.
Archives
Musée George Pompidou
La première commande de Newood pour le Musée George Pompidou à Paris. Une coursive au 5ème étagé en forme d'omega, de 26 m de long courbée au bout de 60°.
A passageway on the 6th level in an omega form, 26 m long, 4 meters diameter, curved at the end of 60°.
Spirale-Spiral
Newood et sa formabilité. Une spirale qui permet la réalisation de tubes de toutes dimensions. Ici l'épaisseur de la coque = 40 mm et le diamètre du tube 50 cm.
Newood and it's formability. A spiral that allows the realization of tubes of all dimensions. Here the thickness of the shell = 40 mm and the diameter of the tube 50 cm.
Quadra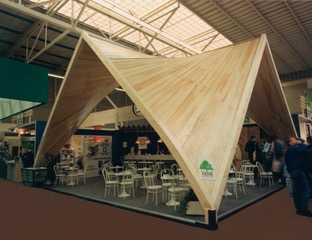 Newood, modèle Quadra, paraboles hyperboliques, 9×9 et 4.5m de haut.
Newood, model Quadra, hyperbolic parabolas, 9×9 and 4.5m high.
Villa Oykos
Modèle «Villa Oykos», habitat unifamilial, athermique de 160 m2 habitables.
Model «Villa Oykos», individual family dwelling, athermic, 160 m2 plinth area.
Floriade
La Floriade (exposition florale décennale Pays-Bas). Une commande, d'une part, pour la construction d'une pergola de 144 m de long par 40 m de large pour une hauteur de 5 m. Avec dessous 20 petits magasins de 25 m2 utiles et d'autre part pour la réalisation de 12 magasins de vente de 4 à 12 ml de front pour un total de 1 500 m2 utiles.
La Floriade (ten-year flower exhibition, Netherlands). And on the other hand the realization of 12 sales stores from 4 to 12 m front for a total of 1500 m2 useful. There is not the slightest bending during lifting.
L'oiseau-The Bird
"l'Oiseau". Commande pour la réalisation d'une sculpture de la buse bleue de la Province de Flevoland (Pays-Bas). De 30 m d'envergure par 6 m de haut. C'est sans doute la plus grande sculpture d'un oiseau jamais réalisé. A servi d'emblème pour la présentation d'une douzaine d'industries de la région sous le slogan "Sous les ailes de Flevoland" lors d'une exposition internationale à Amsterdam.
"The Bird". Commissioned for the production of a sculpture of the blue nozzle of the Province of Flevoland (Netherlands). 30 m wide by 6 m high. It is probably the largest sculpture of a bird ever made. Used as an emblem for the presentation of a dozen industries in the region under the slogan "Under the wings of Flevoland" at an international exhibition in Amsterdam.
Bâtiment industriel- Industrial building
Newood, bâtiment industriel de 35 m de long par 6 m de haut et une portée libre de 15 m. L'épaisseur de la coque est de 0,40 m.
Newood, industrial building : length 35 m, height 6 m by a free span of 15 m. The shell thickness is 0,40 m.
L'atelier
L'Atelier PPAM (plantes à parfum, aromatiques et médicinales) de 30 x 10 x 5 m au faîtage. Newood façon charpentes lamellées collées pour créer à l'intérieur des loges de travail multiples. Avec une ambiance de chapelle.
The Atelier PPAM (perfume, aromatic and medicinal plants) of 30 x 10 x 5 m at the ridge. Newood way glulam trusses so to create inside multiple work lockers. With a chapel atmosphere.